Cultural Awareness Arrives in Southeastern CT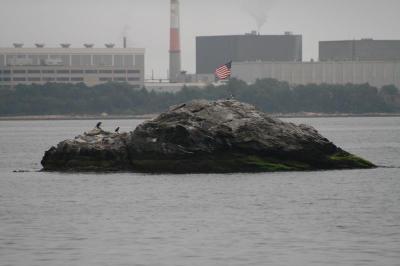 Celebrating Nehantic nation at McCooks Park
IZZY PAGGIOLI
Geometric pottery. Elaborate baskets. The Nehantic tribe once freely roamed from the shores of the Niantic River to westward of the Connecticut River. Officially declared extinct in 1870, the Nehantics land was excavated for financial profit.
Cultural leaders in the community led the Indigenous Peoples' Day Program Sunday, Oct. 11 at McCooks to educate Southeastern Connecticut about the Nehantics.
Hundreds of years ago, the arrival of Europeans decimated Nehantic culture and life. Tribes were placed on reservations and struggled to adapt to their new life. Over the years, the Nehantics population declined, but their descendants are still here today.
The ELHS Spanish Honor Society took the opportunity to volunteer at the event. Craft tables next to the venue contained clay making, coloring, and a scavenger hunt; all activities pertained to the Nehantic culture and lifestyle. Spanish Honor Society members staffed the tables to welcome and engage kids into the activities.
SHS vice president and senior Sachi Vora hopes that the cultural awareness will spread throughout the town. Vora learned new things about Indigenous people and considered the day a "good experience to help out."
"It brings in new culture and awareness that people otherwise wouldn't know. Education and spreading awareness to the younger classes and children impacts them when they grow up. The more that get educated on it, the more people talk about it," said Vora.
Advisor of the Spanish Honor Society Laura Barry feels that there is still much to learn about this day and its purpose.
"It's still an awareness issue. We have to get the name out and more recognition of the fact the day is a celebration of Indigenous people," says Ms. Barry.
Barry also brought attention to the fact that not every state celebrates this day.
"We are still learning," says Ms. Barry. Nehantic Nation member David Brule sees Indigenous Peoples' Day as an opportunity to come back to the reservation and teach
others about Nehantic culture.
"My ancestors left here in the 1800s and
moved gradually up the Connecticut River. I'm really fortunate that I didn't have to go too far. This is the real opportunity to step out of the shadows in our own land here and what was the reservation," said Mr. Brule.
Fellow speaker and archeologist Dr. John Pfeiffer vocalized the oppression the Nehantics faced. Hundreds of years ago, Nehantics would hide their heritage and culture because they wouldn't get a job or be treated fairly.
"It's only recently with the advent of civil rights that things have gotten better. I think this is an opportunity for us to be here today; the message will shine through," said Dr. Pfeiffer.
Event organizer Elsbeth Dowd experienced Native American culture first hand during her time at graduate school in Oklahoma. She was in touch with members of the historical society who wanted to make the event happen this year.
"This is the very first time we had an event like this here. We're thrilled to have the opportunity to reintroduce some of the Nehantic people to the broader southern Connecticut community. This weekend is a great opportunity to celebrate the Indigenous peoples of the Americas," said Ms. Dowd