Winter Sports Come to a Close
Cheerleading Comes Out on Top:
EL cheerleading squad made a statement in their 2021-2022 winter season
ALEX SALERNO
This winter was a season full of cheers for the ELHS varsity cheerleading team. With fans back in the stands, the cheerleading team was ready to make a name for themselves in the ECC.
"Winning ECC was so surreal. I was so surprised and excited when I heard our team get called for both first place and grand champs," senior cheerleader Hanna McIntyre said.
During the winter season, the cheerleading team earned the 2022 ECC Division 1 championship and were also the 2022 ECC Grand Champions. They then went on to place third in states, and are going to New Englands.
"I feel like all the juniors and seniors are just so welcoming to the team," sophomore and cheerleader Annabelle Dueker said.
Dueker added that everyone on this team was close and there was never any drama.
Individually, this team was outstanding with senior Hanna McIntyre, sophomore Annabelle Dueker, sophomore Jazmin Hall and freshman Lily Daley making the ECC cheerleading First Team.
EL also had two All-State cheerleaders: senior Nina Sheehan and freshman Emma Johnston.
Ryan McLaughlin:
JOSH MORWAY
The boys' swim and dive team competed in ECCs on Feb. 26, and senior diver Ryan McLaughlin took to the challenge.
McLaughlin is one of two divers for the swim and dive team, accompanied by senior Jack Walsh. Having a background in gymnastics, McLaughlin fluently transitioned to diving in high school.
Although EL finished a close second to Fitch in ECCs, McLaughlin took first in diving, decorated with an exceptional performance of 379.15 points. He also was 11th in the Class M state championship.
Having additionally won the diving title for the past two ECC championships as well, McLaughlin is now the three time defending ECC diving champion finishing off his ELHS diving career.
Track and Field Finishes Strong:
EL Track teams get two more ECC wins to add to their record
ALEX BROWN
There were many outstanding performances that led to both the boys' and girls' indoor track teams winning ECCs. During the boys' meet, senior Blake Harris won the 55 meter-hurdles, and senior Nick Vogel won the high jump. In addition to this, the team won the 4×400, 4×720, and sprint medley relays. Freshman Thomas Matlock also got third in shot put.
"I feel very fortunate that as a freshman, all the hard work I have put in during the season came together to help the team," Matlock said.
During the girls' meet, junior Izzy Paggioli won the 3,200 meters, junior Grace Blackwood won the high jump, and senior Savannah Soleau won the shot put. Sophomore Jayla Washington placed first in the long jump, as well.
"When I found out the girls' track team won ECCs, I felt very proud of myself and my teammates for accomplishing such an important thing," Washington said.
Fencing Team Lunges to Victory:
EL fencing teams foil others' dreams of winning ECCs
WILL DUMOND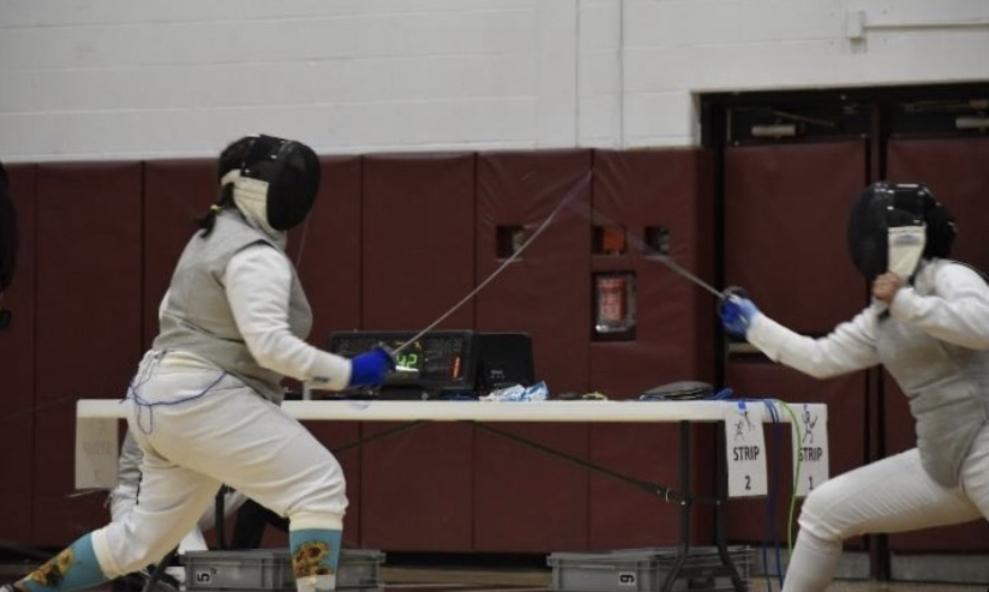 In fencing, men's foil and epee won the Division 1 conference and overall, and were crowned as ECC Champs. Men's epee, another category of fencing, won overall as well. On the women's side, the foil team came away in second in the division while the epee squad won the Div. 1 conference. Needless to say, EL men's and women's foil and epee showed Southeastern Connecticut who is boss.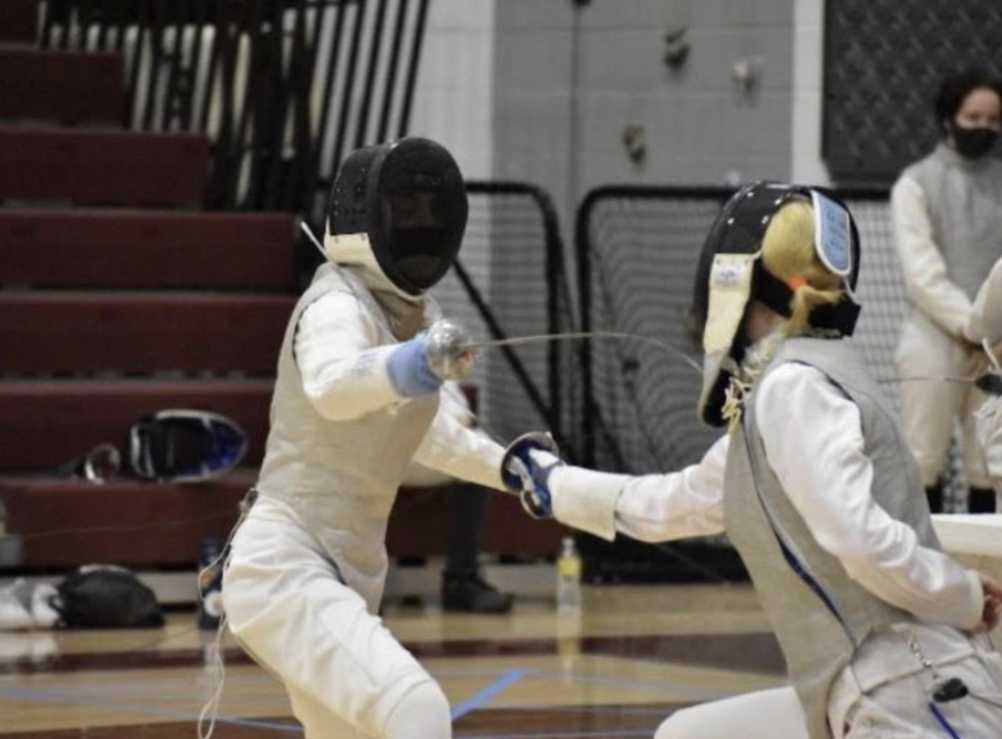 "We had so many new fencers join this season and they improved so much. One of our men's foil novices even won the novice tournament," co-captain of the women's foil team Cora Muschinsky said.
Benji Tan absolutely dominated for mens' foil this season, going undefeated for the second straight season in a row. These wins led to a dominant season in fencing.
Eagles Hockey:
ADAM DICKIE
Second overall in conference play and being the No. 2 seed didn't stop the ELHS players on the Eastern CT hockey team from shaking up the Nutmeg Conference Ice Hockey Tournament.
After beating the co-op Tri-Town Terrorcats in their semi-final matchup March 3, the Eastern CT Eagles were set to match up against Woodstock.
Junior goalie Cameron McCollum had 42 saves, and sophomore Drew Sager scored the first goal of the championship game. Senior Anthony Gesino was able to score the game winning goal to cement the 2022 team as Nutmeg Conference Champions with a final score of 3-2. Junior goalie Cameron McCollum had 42 saves.