Tucked away in a quaint plaza on Niantic Main Street lies T&B Provisions, a small but tasty café that serves a variety
of breakfast and lunch items.
T&B Provisions opened in April 2023 and they are open every day 9-3. The menu focuses on sandwiches, but they have a breakfast menu that is served all day as well as a more elaborate lunch menu with salads, rice bowls, and daily specials. They have a wide variety of sandwiches including warm, cold, and build-your-own, and they offer sit down or take out. Additionally, there are lots of "Take Home Provisions" including soups, hot meals, cheese spreads, dips, quiche, and house-made dressings. I admired the creativity of the menu. Expect to get a much more high quality, unique, and fresh sandwich than anything you'll get at a chain restaurant like Jersey Mike's or Subway.
Upon entering the restaurant, I was greeted by pastel blue walls and dark wood with black accents. The workers were friendly and laid back. The café had a classic and comfortable feel, with classic rock such as "My Life" by Billy Joel playing. After working in many restaurants on the more formal side, owner Tom (the T in T & B) Prue aimed for a more relaxed feel in his own place. I ordered the Fresh Tomato and Mozzarella Sandwich, priced at $12. My first
thought was that this was a bit pricey for just a sandwich, but I was surprised by how large of a portion it was. The sandwich was delicious- it tasted fresh and the tomato and mozzarella was juicy. The seasoning and sauce between the layers was scrumptious and perhaps my favorite part. It was like a margarita pizza converted to a cold sandwich. In my opinion, it was priced right for the quality and size of the sub.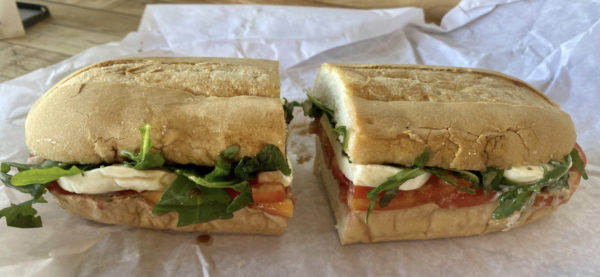 Personally, my favorite aspect of the café was its versatility. The bar-style seating is perfect to sit alone, or with a friend, and get work done. There is also outdoor seating and normal tables inside that are great for socializing.
T&B Provisions is the first business Mr. Prue has opened so far. He has worked in the food industry for 25 years and decided that instead of working for others, he wanted to finally be his own boss. "It took lots of years of hard work and 60-plus hour work weeks, lots of training, and lots of learning. We are still learning more every day," Mr. Prue said.
The goal of the restaurant was to bring a fine-dining twist to lunch food. "A lot of our experience is in fine-dining, so we wanted to kind of bring that to a sandwich shop," Mr. Prue said. He hopes to open more locations in the future.
Personally, I think T&B Provisions is a great addition to Niantic. After going
once, I will definitely be back. It is the perfect place to get a quick breakfast, grab an easy lunch before school, sit down and do some work, or go get a casual bite with a friend. It is a very delicious and unique establishment that I think is worth trying out.