When entering Pearls & Plaid on Main Street, a pink beach umbrella pulled my attention to a huge accessory display. The display featured purses, jewelry, candles, mugs, hats, and more. The store seemed very on-theme with the rest of downtown Niantic: beachy, summery, and it gave off that preppy New England vibe.
I was quickly drawn in and wanted to further explore the store.
Recently opened next to Sift Bake Shop, this is the second Pearls & Plaid location, selling mainly girly and preppy
style clothing, jewelry, handbags, and much more. All the items in the store are hand-picked by owner, Caroline Lemley. I noticed that one of the most prominent items in the store was the "Bogg Bag," a giant bag made with the same material as Crocs.
Another common item I noticed was fun jewelry, especially earrings and beaded bracelets. Personally, I think they have an especially amazing selection of bags.
They had tons of totes, handbags, woven bags, coin purses, travel bags, makeup bags, and more. I was very tempted to purchase one because of their wide variety of options, all very adorable. As for the clothing, they have a little bit of everything. Athletic wear, jeans, dresses, sweaters, Pearls & Plaid had it all. According to Ms. Lemley, they try to bring an everyday style to the shoreline where there is something for everyone.
"Our customers are usually looking for an outfit they can wear every day. Our slogan is 'Every Day Needs an Outfit,' so 'Northern Prep Meets Southern Charm' At Pearls & Plaid it's really just stuff you can wear any and every day and be comfortable in. We want to ease the 'getting dressed' experience," Ms. Lemley said.
Ms. Lemley describes the store as affordable. Everyone has a different perception of what affordable is; I felt like the price points were close to Grace, a similar boutique down the street. I saw a pair of jeans for around $85 and a blouse
for around $60 for comparison.
I think Pearls & Plaid is a great addition to our beach town. It's a nice store to browse around and good for those who enjoy the beachy and preppy styles they offer. It is also the perfect store to buy a gift for someone, as they offer free gift wrapping. Each item is individually wrapped in tissue paper and some items are placed in brown paper boxes with decorative tulle ribbon.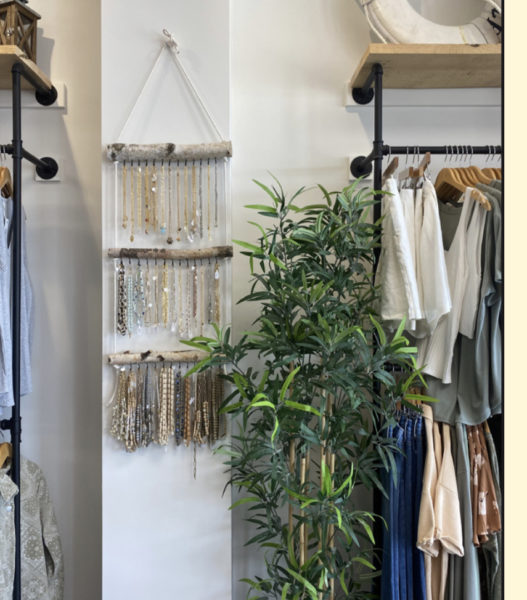 In 2020 Pearls & Plaid opened Post Road Supply, which is their sister store at the Old Saybrook location that offers exclusively men's clothing. Finally in 2023, the Niantic location opened up.
Pearls & Plaid has been in business for nine years. The first location opened in East Haddam in 2014 and then a second location opened up in Old Saybrook in May 2016. In May 2017, they condensed to only the Old Saybrook location. Then in September 2018, they moved to a bigger location in Old Saybrook. Pearls & Plaid has come a long way since 2014; they have gone from a gift store to a full-blown apparel shop with a sister store and two separate locations.
"In the future, I hope to open one if not two more locations. I would also love to expand upon the online business part at some point," Ms. Lemley said.