Salem School Soccer Feeds ELHS Programs
Salem soccer team has been on a roll for the past three years winning title after title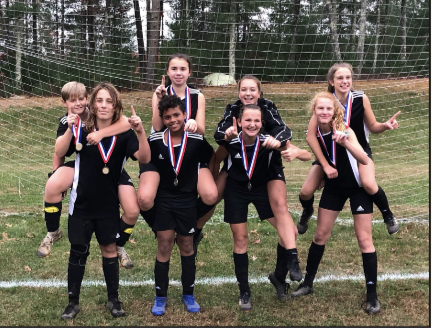 Scoring 11 goals in one of their most recent games, the Salem varsity soccer team is on a roll this season – and have been for the past three years. Goal after goal, the team cannot seem to slow down.
Coach Sally Buller coaches the co-ed fifth through eighth grade Salem soccer team where she continues to send valuable players to ELHS. With a two-year winning streak and championships right around the corner, Salem's varsity team is set to win.
Three freshmen – Gabe Hanney awarded best defensive player, Teagan Dunne awarded MVP, and Zach D'Aiuto awarded best manager – now play for the ELHS JV and freshman soccer team. The group all collectively agreed with a quote from Hanney who stated that the experience made them a
"better overall person on and off the field."
The three freshmen agreed that Coach Buller taught them to be hardworking individuals as they learned how to work together. They argue that this led them to gaining the championship winner's title and having an entirely undefeated season in 2021.
Backtracking more to the team's 2019 win, junior Emmet Dunne (2019 MVP) said that their key to victory was "the team's camaraderie." He largely emphasized this point and expressed that their
teamwork and ability to communicate effectively landed them to scoring their final goal.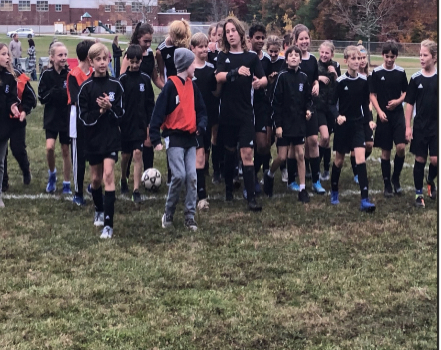 Dunne, in accordance with Hanney, Dunne, and D'Auito, also shares another contributing factor:  fun.
They have collectively agreed that they always looked forward to practices and that it was a great incentive to go and play as well as they could.
"We win as a team. We lose as a team. No one person can do it all," Coach Buller said.
She consistently repeats that the incredible teamwork and the team's enthusiasm and passion is what brought them their multiple trophies.
Even though the group had to take a year off in 2020 due to the pandemic, they came back and worked harder than ever to get back in shape and continue to succeed.
As the all important game comes closer and closer to its arrival, the team works and plays harder in order to secure their medals. The general consensus from former players and current players is that
they are going to win this year's championship. The odds are ever in
their favor.