The Volleyball Spirit of Skylar Bell
Sophomore Skylar Bell proves herself both a leader and inspiration for EL volleyball team
ALEX BROWN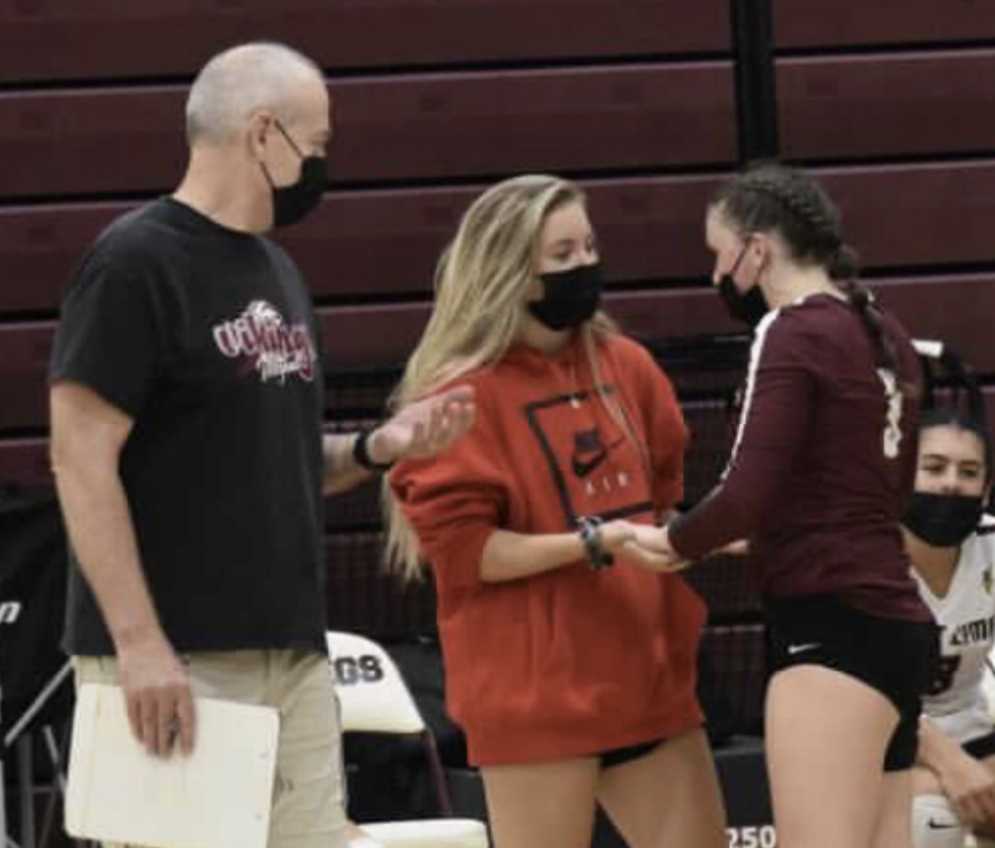 Leading a team, no matter what sport, can be extremely challenging. Not only is an advanced understanding and skill set of the sport crucial, but also the ability to connect with teammates and inspire them to keep their efforts at a maximum. These are typically attributes embodied by senior players on a high school team; however for the East Lyme volleyball team, sophomore Skylar Bell takes on this role.
"I just try to be as much of a role model as I can," Bell said. "And when people get down, I always try to bring them back up."
Bell has been playing volleyball since she was 5 years old. She currently participates in both the varsity high school team and Husky Volleyball, a winter travel volleyball league located in Windsor. This allows Bell to play volleyball all-year long, giving her the experience and knowledge necessary to be a leader on the court.
"Being a leader at such a young age is definitely hard, but with the teammates I have we all try to be leaders of each other," Bell said. "I've always been a leader at such a young age, and now to be a leader on a high school
team is even more of an accomplishment."
Bell has always played the position of libero. Both of her two older sisters, in addition to her dad, are her biggest inspirations for volleyball. Their family even built a volleyball court in their backyard to practice on. She dreams of one day playing D1 for Ohio State.
The key factor that makes Skylar such a great commander of the team is her ability to be vocal on the court. She is constantly communicating with her teammates in order to strategize plays, as well as inspire them to keep their spirits high and put in their best effort.
"Skylar is the anchor of the team. We all have so much trust in her and know that she'll always be at every ball," senior volleyball player Shannon Pierce said. Pierce plays a similar role on the team, being a vocal and encouraging leader on the court. "Even though she is only a sophomore, she is a leader and runs our defense. Without her, our offense would not be as strong."
Her stats also reflect those of a team leader. The team's win/loss is currently 9-3, which shows the hard work of Bell and her team. She also has achieved 14 aces (serving an unreturnable ball) in the second week of October alone, and 16 digs (The first contact made after an attacker from the other team sends the ball over) in a game against Ledyard earlier this October.
"Skylar always brings her best every single day, in practice and in games." She can really turn the momentum of a game around for our side by just being intense and making
some big plays."

Jack Biggs, Coach of the EL volleyball team
Unfortunately, the volleyball team was hit hard this year with setbacks. Multiple concussions have occurred, one of which being Bell. This seriously hurt the team, as having a leader like Bell off the court changes the dynamic of the team drastically. In addition, a COVID-19 case was present causing multiple players to quarantine. Despite these setbacks, the team is keeping their hopes high for a healthy season. Once they fully recover, the team can hopefully get back on track to having a great season.
"I think our future is bright," Biggs said. "I think we can be very competitive, and I think the big picture for us is to be able to get healthy by the end of the season for ECC's."