This summer, ELHS history teacher Collin McIvor was given the once-in-a-lifetime opportunity to travel to Japan. He was traveling with a purpose: the entire trip was meant to further his understanding of topics he teaches in his classroom, in particular World War Two.
The trip was funded by Fund for Teachers, which is a nonprofit organization that's described as a "Grant Fellowship Program that inspires teacher leadership, creativity, curiosity and exploration through an individualized professional learning grant proposal." They award grants to teachers to travel around the world with the purpose of benefiting their classrooms and furthering teachers' own understanding of what they teach. Their goal is to mold teachers into better problem solvers, innovators, reflectors, leaders, and change makers.
Another aspect of Fund for Teachers is that they want teachers to reflect on their own learning while on their trips, and apply their knowledge in the classroom to help their students learning.
Fund for Teachers has funded other trips for teachers at ELHS. They have given English teacher Jeff Beale the opportunity to go to Italy and Greece, sponsored the travels of history teachers Jennifer Raub and Sara Griffith. Science teacher Victoria Thomson was able to go to the Canary Islands, history teacher Hamilton Hernandez went to Japan, Korea, and Hawaii, and English teacher Kimberly Buckley traveled through England.
Mr. McIvor started the grant proposal process for the trip in summer of 2022. He and a few of his friends, who teach
in other districts, wrote a grant proposal establishing where they wanted to go as well as their purpose.
On the trip, Mr. McIvor also went to certain places meant to benefit his travel companions in their elementary school classrooms.
"You have to do a lot of research to find out what opportunities you have and how it connects to your curriculum, and also what you're actually going to do in the country," Mr. McIvor said.
Mr. McIvor's main purpose of his trip was to learn more about how World War II is presented in Japan, and how they teach younger generations about it. He especially wanted to learn more about how the start and end of the war is taught to students. To fulfill this goal, he went to museums and talked to the staff members there. However, this was not his only goal.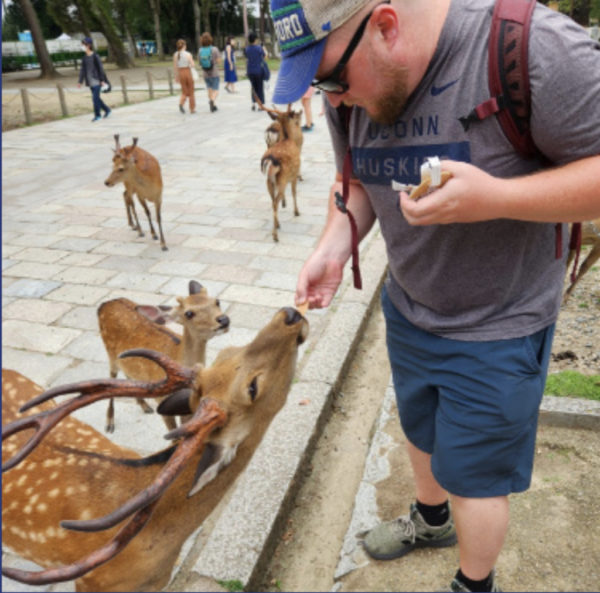 "The other thing I've always been curious about with Japan is the way they move people. Their public transport is the best in the world. I want to see how they move millions of people every day so efficiently," Mr. McIvor said. He rode public transportation very often and took lots of pictures.
Mr. McIvor left for Japan July 3 and returned July 17. He was ecstatic for the trip and its opportunities.
After being a history teacher for nine years and teaching in East Lyme for eight, he is confident that the trip improved his understanding of World War Two in order to better teach the material to future students.
"I'm very excited and I feel grateful. It's a wonderful opportunity that not a lot of people get to do, so I feel very fortunate. I'm excited to take what I learned back to the school," Mr. McIvor said.