From gas to grinders to acai bowls, the new gas station off Exit 75, Noble, has been booming with business since its opening Aug. 8. With a wide variety of services, customers have been very pleased. Before the opening, the plot of land was vacant for many years. Michael Frisbie, owner of Noble Energy, purchased the lot for $1.75 million.
The entire right side of the building is dedicated to every gas station necessity you may need. With an assortment of food and drinks, it's a one-stop-shop. The store and its three restaurants are separated by a common sitting area. Before you leave make sure to stop by the ice cream shop outside to pick up one of their hand scooped desserts.
Not only is the Noble company itself Connecticut-based, but all the workers live here and many attended ELHS including general manager Donald Smith. Before becoming manager Mr. Smith was an award winning chef for 25 years at Penny Lane Pub in Old Saybrook.
"Before me and after me they never won any awards, but during me, we won every year, so I was definitely the tipping point. However, I couldn't have done it without my team," Mr. Smith said. After being there for so long Smith and his family moved to Rhode Island, but three short months later ended up back in East Lyme. Mr. Smith has
translated those same team values to Noble in hopes of cultivating the same level of success as Penny Lane Pub.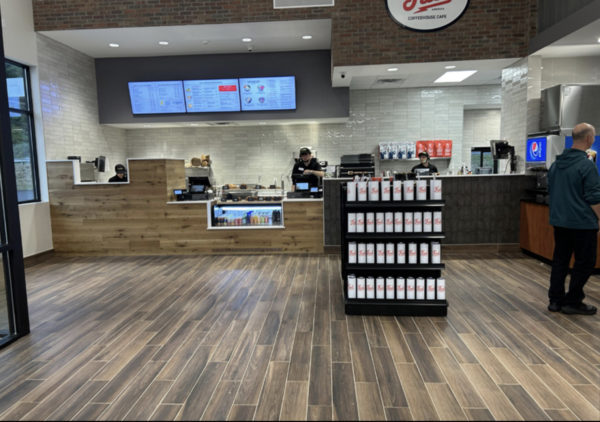 The difference between Noble and other gas stations is they only use fresh fruits and vegetables. In the station is a
coffeehouse named Fuel which offers a wide selection of food like acai bowls, smoothies, coffees and sandwiches. Not only can you order inside but a drive-thru was added for convenience. The staff is quick and kind. Straight through the door is a grinder shop named Nardelli's. This year, Nardelli's is celebrating their 100th anniversary. With it being founded in Connecticut and only having 14 locations throughout the state, many were excited to hear one would be so close. It took some convincing for the company to decide to work with Noble but after Frisbie's persuasion, they hopped on board. This station alone took over a year to build. Mr.Frisbie hopes to open around 20 stations in
the next five years.