Sophia VanDerMaelen's Quadroople Layer Brownies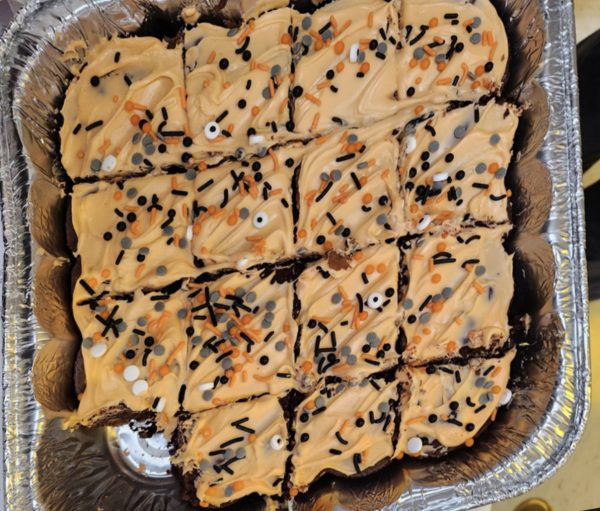 "It was the best layered brownie I've ever had. It was like a religious experience," fellow Viking Saga staff Fiona Samuelson said. Layered brownies are one of my favorite treats. The fudgy and flavorful layers of cookie, Oreo, and brownie combined create a decadent dessert. For the Halloween season, I put a spooky twist on this sweet treat: orange frosting and Halloween sprinkles.
My brownies were packed with Pillsbury Doughboy Ghost cookies, chocolate chip cookies, crunchy Oreos, fudgy brownies, and frosting with spooky sprinkles.
The first step was to press the cookies into the bottom of the pans. I used a combination of Pillsbury Doughboy Ghost cookies and pre-made chocolate chip cookie dough. Then, I pressed Oreos into the pans- I had intended to use orange-filled Halloween Oreos, but I couldn't find any. After that, I made my brownie batter and poured it over top of the two trays. Then it went into the oven to bake for 40 minutes at 350 degrees- however, after 40 minutes the brownies were still liquid, so I ended up baking them for about an hour. After letting them cool, I piped a design with orange frosting and put my spooky sprinkles on top.
The spooky layered brownies were a delicious, easy treat that is perfect for Halloween. I love fall, and this was a perfect activity that gave me a tasty reward at the end.
Kasey Lambert's Peanut Boo-ter Cookies
The classic recipe of peanut butter cookies is used year-round, but it's rarely executed as spooky as this. The basic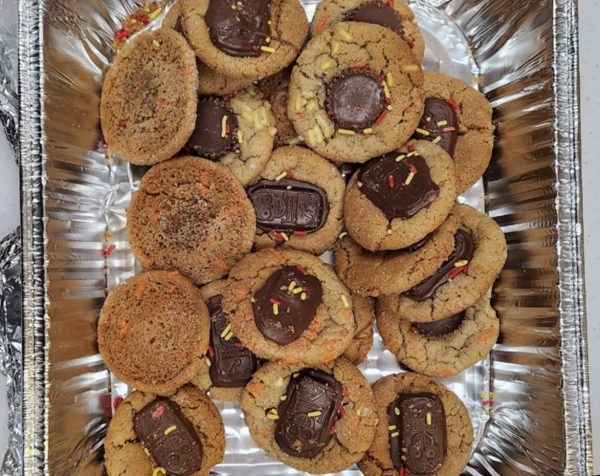 peanut butter cookies with Hershey's Kisses on top are called peanut butter blossoms. The batter smells of a sweet bliss vanilla mixture and the peanut butter leaves your taste buds happy. But Hershey Kisses get boring after a while, especially with the endless assortment of other fall baked goods gaining popularity as pumpkin carving and apple picking season begins.
As Halloween approaches and leaves continue falling in beautiful colors, everyone is eager for an easy spooky recipe. To make a more exciting and festive peanut butter blossom, you need spooky decorations. The autumnal answer: swap out the Hershey Kiss for a fall favorite like Reese's pumpkins or candy corn. The recipe still remains the same, but topped with Reese's chocolates that have skeletons forged into them and spooky orange sprinkles rather than Hershey's Kisses, the peanut butter blossoms are the perfect cookie for any spooky occasion. Whether the occasion is watching horror movies with your friends or snacking on them at a costume party, the peanut butter treats are always easy, delicious, and fun!
Izzy Paggioli's Monster Mash Cookies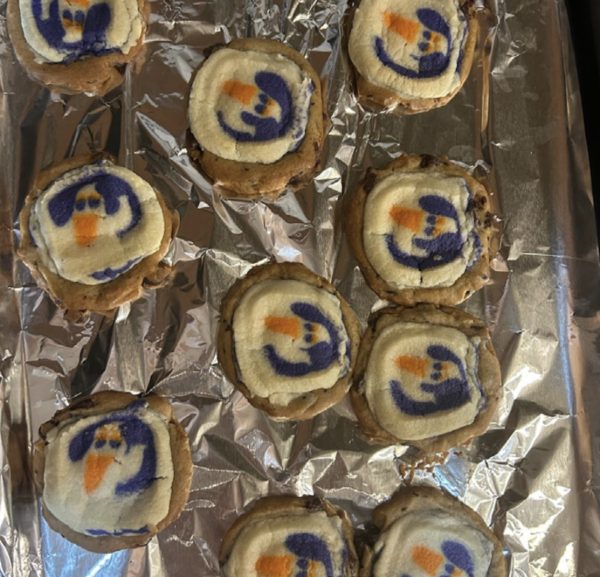 Every holiday season, when Pillsbury comes out with their seasonal-themed cookies, my family runs to the store to grab those limited-edition delights. This particular time, we decided to put a spin on it combining the nostalgic Pillsbury Ghost cookies with Nestle's classic chocolate chip cookies.
Start to finish, baking and preparation took around 20 minutes. I stacked the sugar cookie on top of the chocolate chip cookie dough, then sent them into the oven for the perfect amount of time to keep the insides gooey and the edges crispy. To my surprise they didn't turn into a messy glob coming out of the oven. The cookies remained perfectly in shape, melding together to create an aesthetic spooky treat.
The mouthwatering taste of the Pillsbury sugar cookie unexpectedly pairs perfectly with the gooey chocolate. Each bite creates a soft crunch that sends you into a sugar coma. Once they cooled, my family scrambled to eat them, leaving few for me.
This unexpectedly delicious cookie combination is the best quick, spooky dessert to satisfy any midnight craving.