Summer B-Ball League Revived In 2021
East Lyme basketball team once again participates in Summer League
ALEX BROWN
Nothing but net this summer as players from the ELHS boys basketball team participated in a summer ECC Basketball League.
The league occurs every year, however, due to the pandemic, this was the first time in two years the league ran. It's essentially organized pickup basketball games, allowing players to jump right into the action with less structure of a formal season. The Day created a video covering summer league this year, highlighting how Keith O'Brien, a local celebrity sports commentator for The Day (also known as the "sports doctor"), stepped in as the coach for EL this year.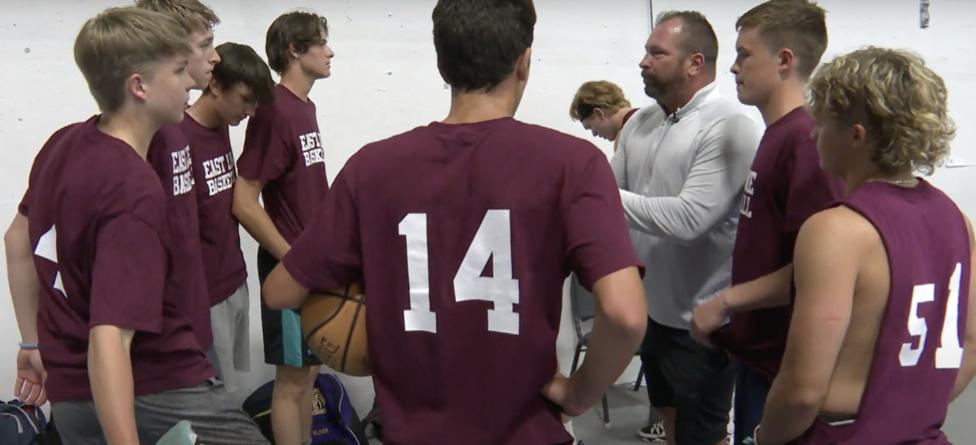 "Summer league is essentially like riding a roller coaster with no line," EL senior and varsity basketball shooting guard Riley Walsh said. "Usually you have to work your butt off in many practices, or wait in line, in order to be able to compete in games, but summer league is all games, which is admittedly my favorite part of basketball."
EL did pretty well this year in the league, having a record of 5-4. One goal of summer league is for the participants to bond more as a team and get to know how each other plays before the season starts. This way, the team can work out any kinks so that they do not translate into the winter.
"Not only does it prepare us physically with endurance, but we gel as a team and develop a bond with each other."

-John Bureau, junior and varsity shooting guard
This summer program is also a great way to get players who are new to their school teams exposed to playing against more experienced players. This way, they're better prepared for their upcoming season, as they then have both more confidence and a wider skill set. It also helps to prepare the older players get in some reps for their next season, as it keeps them playing in a real in-game setting throughout the summer.
"Our team definitely benefited from this," Riley Walsh said. "The younger guys gain a feel for the strength required to play on varsity while the older guys gain confidence with their pragmatic play being more effective with their experience."