Coaching Tenacity
Q&A with ELHS alumnus and prior UConn running back coach Kyle Weiss
ALEX BROWN
After graduating from ELHS, Kyle Weiss earned his bachelor's degree in Earth and Environmental Science at Wesleyan University while also playing football. He played wide receiver and punter, and led the team in receptions in 2010. After graduation, he coached at Pomona College and UCLA in a variety of different positions before coming to UConn, while also pursuing a master's degree in education. Weiss completed his first season as the defensive quality control coach for the UConn football team in 2018, and was promoted to running back coach on Feb. 8, 2019. As often happens, with the coaching transition this year, the new coach is bringing in new staff to UConn, but Weiss is looking to stay in the football-coaching field.
Viking Saga: How did you know that coaching football was what you wanted to do with your career?
Kyle Weiss: For the longest time, I didn't know – in high school I didn't know. I always thought I wanted to be a biologist or do something with the outdoors. I knew I wanted to play football in college, so when I went to college, I was able to play football at Wesleyan University. After about my junior year in college, I started to realize I had to do something with my life pretty soon. I was an Earth and Environmental Science major, and there wasn't anything really drawing me to that career field at the time. But I knew I wanted to keep doing football, and I was playing baseball as well, so sports were a big part of my life. My grandfather had also coached college football back in the day, so I started to ask my current coaches at Wesleyan how I could get involved in the business. And at some point in my junior year in college, I decided I wanted to coach college football, or at least give it a shot.
VS: What advice would you give to students looking to pursue a career in sports specifically after high school?

KW: There are a few things I'd tell someone. First, it has to be an absolute passion, because right away there isn't a lot of money in it. There has to be something more drawing you to it than just money. Second, if you want to be at the highest level of athletics, try to get yourself into a Division I school, whether you have the talent or not, and get involved in the program that you want to be in. The key is proximity, go get around the people that you want to be someday. Go surround yourself with those people as quickly as possible, and you will get to where you want to be faster.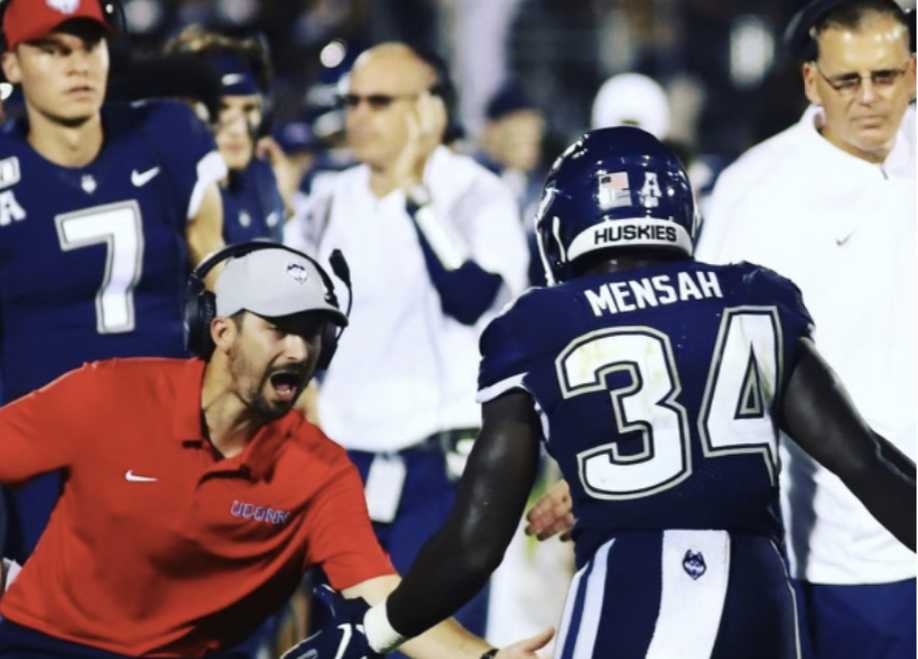 VS: What was the process like for you to get where you are today?

KW: You find out in the sports world that everyone has their own unique path. I graduated from Wesleyan, and I took a football and baseball coaching job in LA, making no money from coaching. I was working part time jobs just to pay the rent. I was there for a couple years, and I got promoted to director of operations. Then I realized I wanted to be at a Division I level rather than a Division III level. So, I wrote hand-written letters to 127 Division I schools and told them I'd volunteer-work for nothing. I didn't know how I was going to live, but I just told myself if I could get a foot in the door, I could make it. The crazy thing is I wrote to all of these schools and didn't hear back from any of them for six months. The key was to not get discouraged. All of a sudden, one day the director of operations at the University of Louisiana Lafayette offered me a volunteer position for football. That same day, the UCLA director of operations called me back out of the blue. He brought me in the next morning to interview, and by that afternoon they offered me the spot. Now I had a foot in the door with UCLA, and within a couple months I got an intern position. I kept working my way up until the head coach got fired, and now all of a sudden I was out of a job. But then, because of the connections I had, I called up the head coach of UConn. He gave me an analyst job, but because of my hard work, I was eventually promoted to running back coach.