Boys' Basketball Seniors Lead Team in a Run to the Sun
Team secures trip to Mohegan Sun for ECC Division 1 Final
WILL DUMOND
Unity can take form in many different ways, and the seniors on the boys varsity basketball team are a prime example.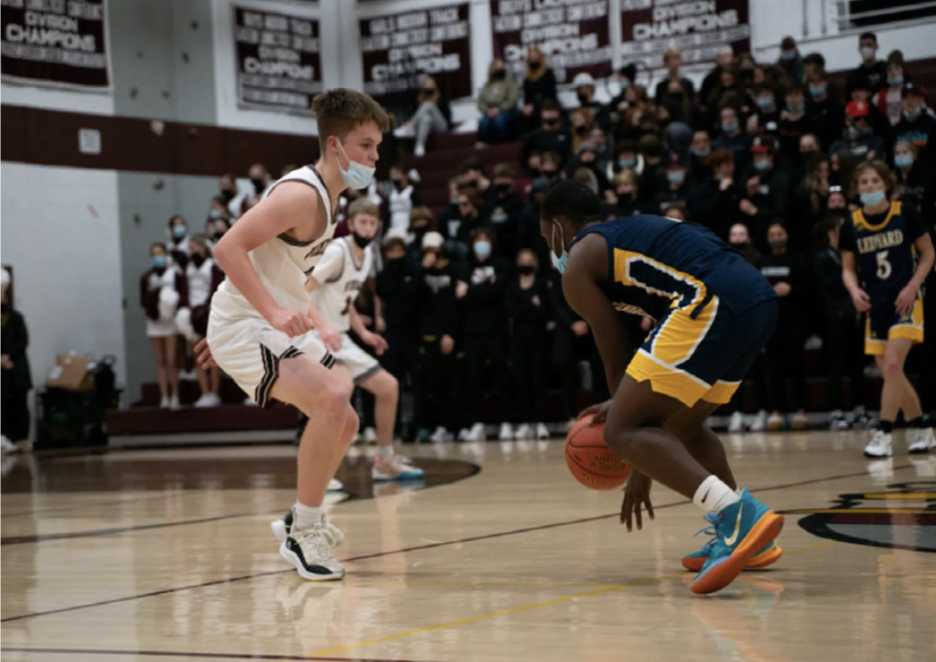 Seniors Will Anglin, Rowan Mundell, Jesse Oloski, David "Ski" Semnoski, and Riley Walsh entertain the Viking Valley and all the fans at games with amazing skill, great court knowledge, and effortless communication. This has also allowed them to have an outstanding win/loss this season of 14-8 before heading to the ECC Division1 Boys' Basketball Final at Mohegan Sun on Tuesday night.
Anglin, Mundell, and Walsh started playing basketball together in fourth grade. It wasn't until middle school when Semnoski started playing, and the four met Jesse as freshmen.

"Once we all met, it all just clicked into place," Mundell said.

Growing up as friends provided the ability to communicate outside of the basketball court. This type of communication helped them grow tighter as a group and improved their performance.

With the Viking Valley packed and thirsty for an exciting game, sixth-seeded EL upset the No. 2 New London Whalers 49-46 on Saturday. It then became time for the seniors and team to suit up for the Division 1 final against Waterford [The Viking Saga went to print Tuesday before the game tipped off].

"We're really excited about the playoff run, but not surprised," Walsh said. "We knew we could do it, and in our minds, we aren't really underdogs."

These five seniors know that they are able to rely on each other on and off court. They will be friends through thick and thin, being each other's biggest fans even when they are calling each other out for being out of place.

"Once you are close friends, it becomes a lot easier to provide constructive criticism and help each other get better," Walsh said. "Even if you are cussing someone out for acting out, you know at the end of the day you will still be friends." Coach Jeffrey Bernardi has watched the five together since freshman year.

"I have seen tremendous growth in each player's leadership and maturation as young adults," Mr. Bernardi said. "I rely on them to echo my message, but also to lead by example as their actions speak louder than words."

During this past basketball season, there was no doubt that this varsity team led by Anglin, Mundell, Oloski, Semnoski, and Walsh played their hearts out: as friends and as a team.

"When you are with a group of guys for this long, you see their good days and bad days. Being able to pick them up and be there for them is all that really matters in the end, no matter what," Semnoski said.