Beloved ELHS Teacher Mr. Guinez Remembered by All
Students and peers recollect on Mr. Guinez's kindness and compassion towards others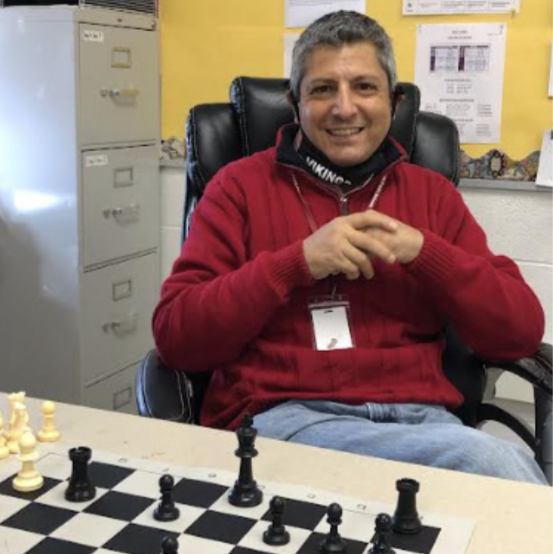 Loved by all for his kindness and generosity, Marcelo Guinez touched the lives of students and teachers in the East Lyme and Salem communities.
Mr. Guinez arrived in the United States in the late '90s to pursue a degree in World Language. He began working as a Spanish teacher at Salem Schools before teaching at ELHS. In his passion for education and helping others, Mr. Guinez also volunteered as a soccer coach and was advisor for the chess and ping pong clubs.
One of his students, junior Nathan Bergman, first met Mr. Guinez when he was teaching at Salem School. Mr. Guinez was his study hall teacher in the first half of the year where they began to play chess together.
"At the start he was better than me, but every time, he taught me tricks and strategies so I could improve. I will never forget the first day I beat him. He was a very generous person. As a study hall teacher, I think he went above and beyond expectations. He would individually check in with his students.
Aside from teaching Spanish, Mr. Guinez loved playing and teaching chess to his students
to see if we had any missing work and assist them to get it done. He said sometimes he had to learn things on Google to help his students. He believed everyone should get the help they need. He spread his unwavering generosity and kindness to everyone he met, " Bergman said.
A past student of Mr. Guinez, Emily Anderson, remembers his kindness and compassion years later. Aside from teaching Spanish, Mr. Guiñez loved playing and teaching chess to students.
"He was very open and understanding, and I certainly remember his kindness. He kept things low pressure, a much needed break, and fun. Marcelo was able to encourage speaking Spanish in a casual, conversational way, and really brought out the speaker in me. When I went to Spain later that year, I was very excited and proud to speak Spanish with the locals, " Anderson said.
As a Registered Behavior Technician, Anderson hopes to create the same calm environment for her own students as she felt in Mr. Guinez's classroom.
"He had a positive impact on my Spanish career, and my life. His compassion did a lot for me then, and probably later in ways I didn't realize. When I needed to take extended class breaks, he said to me 'you never have to worry about missing my class, ' which means alot to me. He showed me what I deserve in education, " Anderson said.
Mr. Guinez's strong compassion for helping others and creating a positive, encouraging school environment forever impacted his peers and students' lives. His impact on EastLyme will forever be remembered in fond memories of the kindness he spread.