La Belle Aurore: The Heart of Niantic
A hidden gem embedded in our town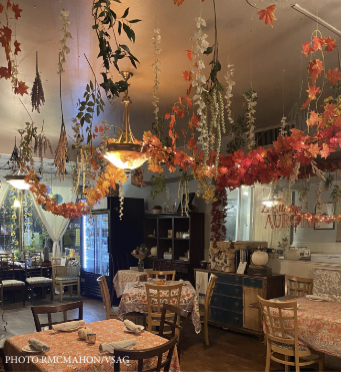 The 17-year-old restaurant, home to fabulous farm to table menu items and a cozy-feel is La Belle Aurore.
For me, La Belle Aurore is more than a restaurant, but a safe haven. As one of the staff members, I feel that the restaurant is grossly underappreciated for all that it has to offer.
Growing up in Niantic, La Belle Aurore was a staple of my childhood. I still remember the lavender lemonades to this day- the owner Dawn Bruckner is the most creative person I know, and I've admired that about her for nearly a decade. She makes her restaurant as welcoming as possible.
From the moment you walk inside, seasonal floral decorations hanging from the ceiling greet your eyes. Baked goods, like the classic and addictive Cowboy Cookies sit irresistibly in the corner, along with the "Grab & Go" freezer and cooler containing ice cream, Sleeping Giant Bagels (made on site!), Hunter's hot sauce, and take-out meals.
The menu, constantly changing due to what ingredients are in season, never fails to feature Ms. Bruckner's unique flavors and beautiful dishes you can't find anywhere else. The octopus is one of the oldest and most popular food items, but if octopus isn't your style, other choices, like the French onion mac and cheese are just as delicious.
For the past three years, I have worked at the restaurant completing tasks, from squeezing lemons to serving patrons. As most service workers know, there are the customers who are impolite or even mean, but regardless, I have received an overwhelming amount of kindness. The frequent patrons, or "regulars," have become faces I know and love, who I exchange exciting news in my life in return for theirs. Those faces brighten my week every Friday and Sunday I work.
Then, there is the matter of the staff. This will be completely subjective, but hey, this is my opinion here.
Anthony, Hunter, Ellie, Mr. Bruckner and Ms. Bruckner, my La Belle family have shown such kindness that there aren't enough words for. Without them, La Belle wouldn't be what it is today.
Ms. Bruckner is a remarkable human being. She is a talented chef who is constantly working. Often short staffed, Ms. Bruckner has to wash dishes or serve customers, on top of cooking for an entire dining room. Running the business herself, Ms. Bruckner successfully makes her restaurant one-of-a- kind.
So, please, if you have a chance, stop at La Belle Aurore. Grab a bag of the best (seriously, the best) home- made bagels or get a meal, that way you can see the beauty there that I do.