National History Club Introduced to ELHS
ELHS National History Clubs officers' goals and plans to build a dependable organization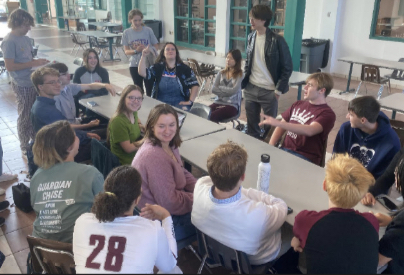 "There's a million things I haven't done, just you wait." This famous line spoken in the well known Broadway play "Hamilton" provides a glimpse into the newly formed National History Club advised by history teacher Hamilton Hernandez.
The newly formed club is working to build a sturdy foundation for future members, much like Alexander Hamilton did with the U.S. Constitution.
"I feel like a lot of student-operated clubs fall apart because they don't have a template or norms by which they operate and I want to avoid that so future classes feel like the club is dependable," president Aiden Rodgers admitted.
Mr. Hernandez intended to create a space for students with a passion for history to debate historical and current events. Hernandez's main goal in creating this club is making meetings student-led: "My job is to be the adult in the room and to try and guide them."
Mr. Hernandez proposed the club to senior Rachel Limburg, and she said "it was more of a group effort to get the club up and running." Within the club's first meeting, they began setting the ground for electing officers, President Aiden Rodgers, Vice President Mannat Kadian, Secretary Rachel Limburg, Treasurer Cora Muschinsky, and Historian Jeanette Liu.
This year, the club is focusing on creating connections with local organizations to ensure volunteer opportunities for students. Treasurer Cora Muschinsky says the volunteer opportunities provided by this club will be different from other clubs.
The National History Club's volunteering will be "specifically for museums and historical societies which isn't the focus of the other groups, their goal is to get the service hours whereas for us, we are trying to take part in local history." Together, the National History Club members are creating fundraising events to support a trip to The Metropolitan Museum of Art by the end of this year.
"I'm a history nerd, so I'm a little biased," Rodgers admitted. They believe that learning history allows you to understand the world's many cultures and its relation to the present day.
Muschinsky and Mr. Hernandez point out the members ability to discuss any historical topic they are passionate about. While a normal history class is limited by a strict curriculum, the National History Club determines the content discussed within the meetings. Although the National History Club has just begun, much like "Hamilton,"
there's a million things they haven't done but just you wait.