Mauri's Soccer Engine Keeps Running
UMass Dartmouth girls' soccer team welcomes new commit Ava Mauri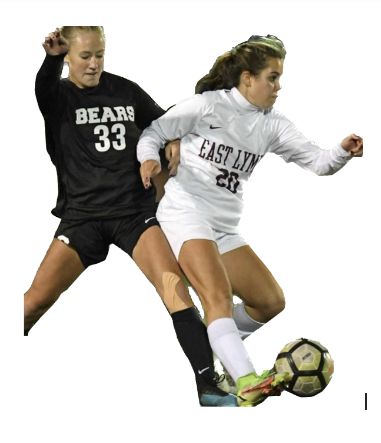 Nicknamed "The Train" by her middle school soccer coach, her fearless and unwaveringly determined play style is not for the faint of heart. Once she locks eyes with her downfield target, you can bet that she'll run straight towards (and sometimes through) her opponent to get the goal.
Meet senior Ava Mauri, a cheerful and energetic student-athlete who recently committed to play soccer at UMass Dartmouth. Mauri's soccer journey began back in third grade, when she played for the Salem youth soccer league. She squeezed her way onto Southeast Soccer. "When I joined my first premier team, I was still kind of bad. Fun fact, the only reason they took me was because they made no cuts. But from then on I just kept getting better and better," said Mauri. Mauri joined the ELHS girls' soccer team her freshman year. "I got pulled up to varsity half way through my freshman year soccer season. Just as I was adjusting to the freshman team, I found myself surrounded by seniors," said Mauri. Unfortunately, Mauri's success was halted by an ankle injury, which sidelined her for her entire
sophomore year. Upon return, getting back on track was an arduous process. "Coming back from the injury was
difficult. It took me a while to adjust to my junior season. I struggled with confidence a little bit. It took me a half
a season to finally get my confidence back," said Mauri. Despite her injury, Mauri's love for soccer remained. She
describes the soccer field as a place to destress from the anxieties of everyday life.
"It's kind of cliché, but it's true. If I'm stressed about something I can just go out onto the field. It comes naturally to me. I just forget about everything and focus on what I'm doing," said Mauri. Mauri initiated contact with UMass
Dartmouth soccer during her junior year. She wanted a close-to-home NCAA Division III school. "The UMass Dartmouth girls seem like a really close team. It's a really positive environment. They always go up to the goalie
and tell her good job even if the opposing team scored on her," said Mauri. Bobby Desilets, the head girls soccer coach at UMass Dartmouth, shares the opinion that Mauri is "like a train." "Ava has a great motor and can get all
over the field. She keeps the ball moving and always seems to find the right pass," said Coach Desilets. This past fall sports season, Mauri switched to cross country. "I'd always be looking at the cross country team and be like 'you guys look like you're having so much fun.' It was really appealing to me. I realized I really did like running and I wanted to do cross country," Mauri said. Mauri will resume her soccer career this winter on CT Rush's premier team. "Collegiate soccer is something I've always wanted to do. I didn't want to start college with a blank slate. . . I've always liked soccer, and I think having that outlet going into college is going to be helpful if the transition is rough. I'll always have soccer there for me," Mauri said.
Charity Spotlight: SECT Miracle League
When talking about local charities in the Southeastern part of CT, the Miracle League of Southeastern CT (MLSECT) comes to mind. The reality for the field in EL started in 2017 when the EL Parks and Recreation Department joined forces with the Miracle League of CT to help build the Miracle League field. The only issue was funding at this point.
$550,000 was needed to build the field. The fundraising started in Nov. 2017. One big fundraiser the MLSECT has had multiple times was the Miracle League Gala at the Mohegan Sun. In 2019, with enough money raised to start building the field, the construction started. Construction ended in 2020 and the rest is history. The MLSECT provides recreational opportunities for kids with disabilities. MLSECT has many different programs which include seasonal sports, but also special events per season, like the Halloween event. Programs like iCan Bike, baseball, kickball, and lacrosse provide kids with disabilities a comfortable environment to learn. High school volunteers help make a welcoming environment as peer mentors, sometimes one-on-one for support. Many of the seasonal sports are hosted at the Miracle League field behind Flanders Elementary. "To see the smiles and to provide opportunities to kids who normally don't have the same recreational opportunities, and see the response we get is what makes it all worth it," executive director of MLSECT Dave Putnam said.