Marching Bittersweet in the Heat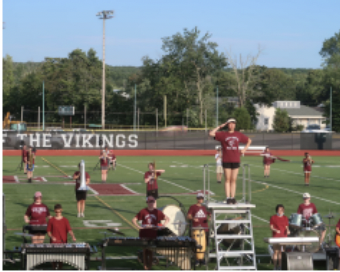 Return to 'normal' marching band season after last year's strict precautions
RUBY MCMAHON
Six days- 10 hours long and blisteringly hot. Somehow, band director Ms. Fadrowski makes this 60-hour week less grueling than it seems. Summer band camp is where all he fun happens- icebreakers, activities, and learning the foundation of skills for the exciting new season ahead.
Though the extensive hours sound intense, the camp is an opportunity for members to bond and become closer as friends. Through band, sophomore Dylan Rodgers feels he has formed many relationships and found where he belongs in high school.
Rodgers was first introduced to the East Lyme Marching Band during 7th grade, and since 2018, feels that band has gone from a group with different cliques to one big family.
"It's really nice to be in band, because going into high school, especially if you don't really know anybody, and doing band the summer before can help you meet so many people," Rodgers said.
This year is considered a normal season for marching band as many COVID-19 restrictions have been lifted for practicing and performing outdoors. Rodgers is now stepping up to a student leader position of his section: the head captain of the percussion section, also known as "pit."
"This is my first year being head captain, and I'll admit I was a bit nervous at first but after the previous year, since the 2020 season wasn't the most normal of a seasons, I want to have a normal season and I'm honestly just excited to be part of it," said Rodgers.
Junior Rose Zhou is also taking on a huge leadership role for the band. As drum major, Zhou's responsibility is to lead the band during rehearsals as well as performances.
"Before I joined marching band, I was just this tiny trumpet player that didn't want to play loud, and then once I joined band, I joined something bigger than myself. As a student leader, I've learned a lot about leadership that I can take with me to other places, like at work and in life. I feel like I've grown as a musician and as a person because it has boosted my confidence," said Zhou.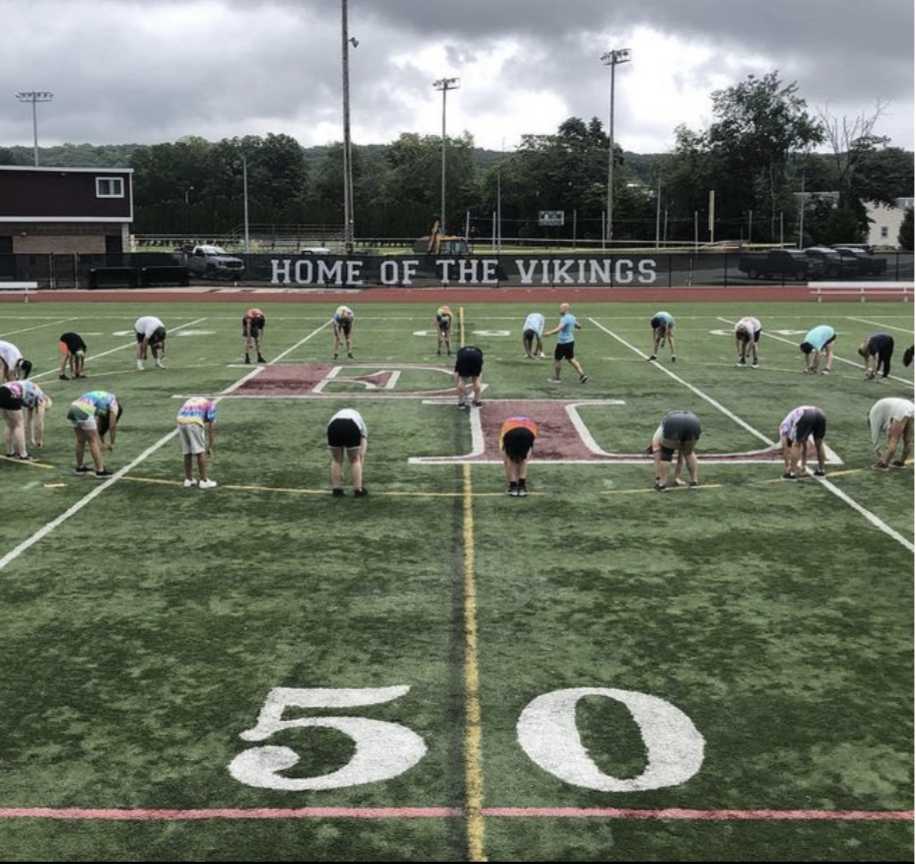 Junior Aiden Rodgers, the Public Relations representative and Web Master for the marching band, has learned from leadership opportunities band has provided. Since starting marching band in 8th grade, Rodgers has taken away many lessons.
"You learn how to work with other people effectively because it's this big moving machine where if there's one person wrong, the whole band is wrong. You have to learn how to adjust to other people and what they're going to do, but do it in the moment and think on your feet," said Rodgers. This ability to be alert is unique to band and unlike many aspects of the school.
After hours and hours of hard work, the marching band is starting off their season closer and stronger than ever, thanks to the effort from the students and the band director, Ms. Fadrowski.
"Ms. F. was able to create such a close- knit environment and essentially revive the band program a couple of years ago. I got to experience her teaching for four years and honestly she is the backbone. She's been keeping us motivated, and we wouldn't be able to survive without her this far," said Rodgers.