Creativity Shining Through in Ceramics
New Ceramics teacher brings a positive attitude to the classroom
AVERY GALLO
"Running a Ceramics room is fun, but it also takes some finesse," said Ceramics and Crafts teacher, Emily Feltes. She is the long term substitute for Eloise Gada.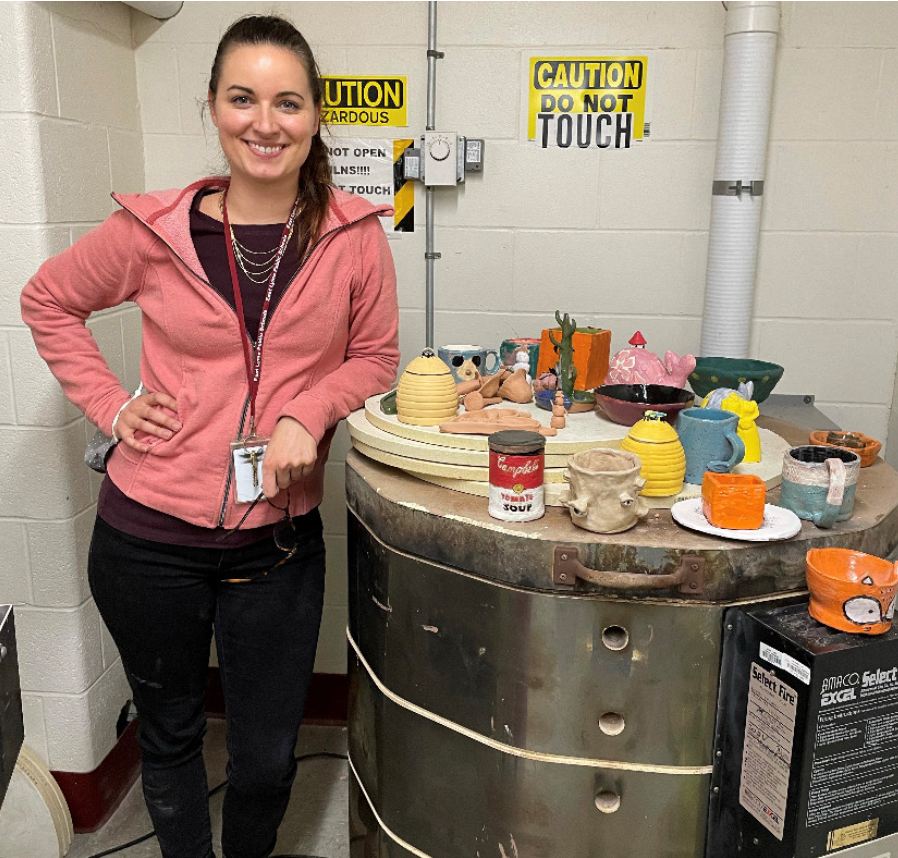 Ms. Feltes is a former ELHS student. The funny thing is, she never took the class herself. She developed a love of art once she went to Manhattanville College and realized that she could combine her passion for painting with ceramics. After college, Ms. Feltes managed a boutique that would take in local artists and she would sell their jewelry, followed by being an art gallery manager in New London for two years.
After Ms. Feltes had kids, she knew that she wanted to go back to work and become an art teacher.
"I love teaching ceramics because it is hands-on and I get to be creative all day long. There is always something to be done and I never get bored," said Ms. Feltes.
Despite the complicated process, Ms. Feltes enjoys sharing her knowledge with students.
A piece of clay takes about a week to dry before it can be put in the kiln, which is the heating chamber that hardens ceramic objects. If fired too early, the piece will crack or even explode.
The kiln takes over 24 hours to "bake" the clay up to 1971 degrees. The clay has to cool slowly so the students can glaze them. After the piece has three coats of glaze, they go back into the kiln for another 24 hours. The hard work is worth the beautiful result for the students in the Ceramics classes.
"Ms. Feltes makes class feel like a place where you can connect instead of just doing projects and being graded on them. She's a person you can always confide in and she genuinely makes an effort to help us do the best we can. Ceramics wouldn't be the same without her," said sophomore Bryanna Pesantez.
"I think the biggest challenge was learning how to time all the projects with all four classes so that students can seamlessly keep working on projects and not have to wait on the kiln. I would take a survey on what kids wanted to work on and that's how the class would run," said Ms. Feltes.
Other than teaching and helping students, Ms. Feltes's day is filled with loading and unloading the kiln, moving heavy clay, and photography work. She also gets to listen to music and create with students throughout the classes.
"I love that students make functional pieces that they will use in their homes and dorm rooms for years to come. Their projects also make for beautiful gifts," said Ms. Feltes. "I think my favorite thing about having
Ms. Feltes as a teacher is she's really connected with the students and has gotten to know us. She's one of those teachers that is easy to talk to even if it's just about an assignment for her class or about an issue happening around the school. She's very attentive to her students and overall knows how to make the class fun and more enjoyable for everyone," said sophomore Hannah Smith.