Consignments Of Connecticut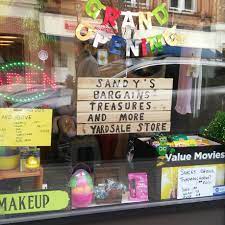 A look into some of the astonishing thrift shops near EL
JOSH MORWAY
Houseware Thrift Store
837 Boston Post Road in Old Saybrook
As the name suggests, the majority of this shop's inventory consist of antique houseware items and furniture, although they additionally buy and sell jewelry. When I first walked into the store, the sheer amount of vintage lamps they had on display astounded me, yet there were many other intriguing products such as a refurbished typewriter, silver tea sets, gold jewelry, and much more.
Sandy's Bargains
238 State Street in New London
Sandy's Bargains proves to be far more of a traditional thrift store, featuring a wide variety of consigned products. The inventory has a surplus of colorful clothing, a large majority of which is for children, and was what I had first noticed when walking into the shop. Although, clothing is by no means the only available item, as there are school supplies, jewelry, stuffed animals, home decor, and toys. Additionally, my favorite feature of the shop is that there is a sleepy cat that lounges around the store.
Christina's Fine Consignments
205 W Thames Street in Norwich
The inventory at Christina's Fine Consignments is the most extensive out of these stores, and I believe they are of the highest quality. The interior of the store is impressively festive, and the exterior has a wonderful painted mural of roses and sunflowers on a pale green wall. As for inventory, there is a huge variety of trinkets, jewelry, home decorations, clothing, and even crochet works.