Masks Now Optional in East Lyme Schools
A look into what's next for students and teachers regarding the removal of the mask mandate
MEGHANA GOGATE
Masks became optional for all East Lyme public schools on Monday. Why was the decision made in the first place, and what is the general consensus of the student body and staff?

"I've spoken with the Department of Public Health and Ledge Light Health District, as well as our medical advisor and given where the case rates are, they've really plummeted. We have decided to follow in suit with the recommendations from the Department of Health to have the mask mandate and mitigation strategies become recommendations, strong recommendations, but not required," superintendent Jeff Newton said.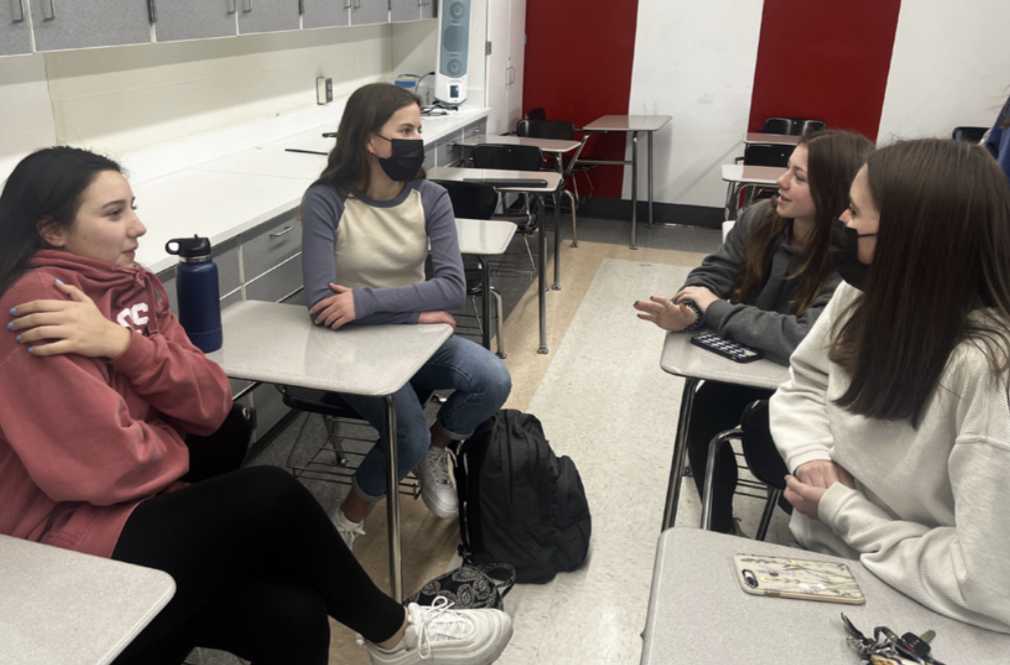 As of Friday, Feb. 25, the CDC no longer requires wearing masks on school buses or vans operated by public or private school systems as well.

"What's important is that we need to emphasize and make sure parents and students and staff are aware that if we do have another outbreak or if cases climb like they were in January, we could quickly implement a mask mandate across the schools," Mr. Newton said.

Although masking is no longer mandatory when coming to school, some students are nervous about this decision.

"I think at some level, everybody has some degree of nervousness. After talking with some of my sophomores who have literally never been in the building without a mask on, whether they are excited about it, whether they are super nervous about it, there is always that fear of 'okay this is a change, this is something new'," history teacher Jennifer DeLucia said.

Similar to students, the mask mandate removal is a change for teachers because no one knows what is going to happen with COVID-19 cases in the coming months.

"I certainly feel some of that apprehension. I'm not entirely sure what the next couple of months will look like. We want to do what we can to keep our students safe and to keep ourselves and our families safe. So that's part of the concern," Ms. DeLucia said.
Although masks are a controversial topic in the school, many believe that this will be an opportunity for ELHS to show maturity and respect other opinions, as each student may have their own personal reasons behind their decision. From caring for elderly, health-compromised loved ones at home to considering one's own mental health; this is a time when the need for empathy will be at an all-time high.

"I think there will be some tension during the first few weeks, but after that, I think it will simmer down. In the end, those who want to wear masks, will, and those who don't, won't. It will take some getting used to, but we should be alright," senior Ethan Moore said.

Overall, students and teachers hope that everyone respects other people's choices on masks.

"There's obviously prejudice whether you choose to wear one or not, so there's no easy way out for kids. Everyone's entitled to their own opinion, and as long as we're still following the guidelines in place, nobody is doing anything wrong," Moore said.

The hope is that students respect others' decisions, but there will be immediate action taken if this is not the case.

"We are going to have zero tolerance for those that are derogatory or negative towards somebody or say something to somebody who's chosen to wear a mask," Mr. Newton said.

Although this is a big step in the battle against COVID-19, there are many questions that remain about cases in these coming weeks.

"I would hope that we are reaching an endemic stage of sorts, but I don't know. Nobody knows. Will there be another variant that comes forth? But I hope that maybe we're getting towards an endemic and having lesser cases," Mr. Newton said.