Shaking Up Shakespeare
Drama Club uses a classic script with a modern twist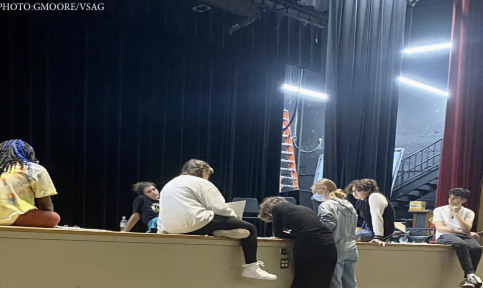 "High School Musical," "Peter and the Starcatcher," "Puffs," "A Piece of My Heart" …and Shakespeare?
The Drama Club's fall play is a performance of "Twelfth Night" by William Shakespeare with opening night set to be Nov. 18. What makes this performance so special is how it will be executed: Shakespeare with an SNL- comedy spin.
The play is a unique take on a classic script to make it more accessible to a high school audience. The Drama Club will be using the original Shakespearean language and script, but actors will mostly use modern accents and modern clothes. The play, set in present day New York, will mostly be in a comedy show setting similar to SNL.
"I knew Shakespeare was something they could grow with," director Sara Kelly said.
Ms. Kelly knew she had a talented group of actors that could take their acting beyond the walls of a high school setting.
Originally, the fall play was going to be the D&D themed play "She Kills Monsters" but was changed to "Twelfth Night." Overall, the change has been beneficial to the Drama Club because it has so many more roles and has a different setting than the past plays which were all set in high schools.
"Hearing that we're doing Shakespeare, a lot of people will probably be like, 'Oh, I won't understand, I'm just not gonna go, I won't understand any of it.' You will. Every scene we go through we delve into the language and what we are saying and how and what our relationships are. So, because we the actors will know it so well, the audience will be able to grasp it very quickly," sophomore and Drama Club member Jane Campbell said.
At every rehearsal, the Drama Club works hard to decipher what exactly is being said in each scene. They carefully read through every scene and discuss the lines, their diction, and meaning of the plot.
"[Ms. Kelly] is really awesome because she gives you a lot of liberty to do what you want with your characters," junior and lead Drama Club member Dilshani Hansa said.
Actors are involved in the planning of every scene their characters are in and are able to really develop the personalities their characters possess.
Going over these scenes and sharing actors' opinions helps translate the language for the audience, but it also helps make it more entertaining in the new light they are shining on Shakespeare.
"We've got a great cast, we're funny, and we're all mostly really good friends in real life. We also all have good chemistry as far as joking around goes. It's a really great group of people," Campbell said.